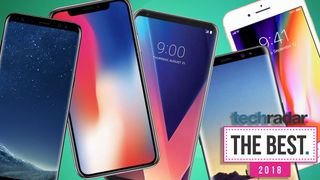 With each new smartphones comes with new innovation, features and various range of price. Here are top 5 which you should consider thinking to own.
Samsung Galaxy Note 9
The Samsung Galaxy Note 9 is the best smartphone for 2020. Best known for its size. It's a whopping 4000mah battery which lasts almost a full day with the maximum charge. It power packs itself with The Exynos 9810 or the Snapdragon 845and comes with either 6GB or 8GB of RAM. There's also a dual-aperture12-megapixel camera on the back and can switch itself between f/1.5 and f/2.4aperture. S Pen is the main highlight. It can be controlled with Bluetooth and can be used as a remote for taking a picture, skipping songs. Also controlling presentations.
Samsung Galaxy S9 and S9+
The Samsung Galaxy S9 and S9+ have one of the most beautiful display in the market with super colours and great dynamic range with the best viewing experience you can get. It's a big phone and is designed for big hands but the way they designed it makes it very comfortable on the hands. The phone itself looks very premium and stylish. It comes with Snapdragon 845 or the Exynos 9810 processor with 4/6 GB of RAM. The camera is 12-megapixel on both the S9 and S9+ but theS9+ model has the dual aperture capability making it better.
Huawei Mate 20 Pro
The Huawei Mater 20 Pro is the best Huawei Phone to date. It offers a mix of design, power and performance with a few surprises thrown in it. The P20 andP20 pro offers more screen which enhanced triple rear camera and a new in-display fingerprint sensor. It has a huge screen with QHD resolution and ensures that everything looks awesome. Which comes with its own Kirin 980 chip and 8GB RAM. The smartphone has a great battery and you can expect a full day of usage from a full charge. The most interesting part is the camera as it has three cameras on the rear with whopping 40MP wide-angle and 8MP telephoto lens on the P20 pro. But the third sensor is new which is an ultra-wide 16MP camera which allows to get more of the surroundings into each shot.
iPhoneXS/XS Max
The latest iPhone from Apple is the most powerful and best iPhone till date but phone still retains an all screen design with a notch. Comes with new improved cameras, storage and a new expensive price tag. It has OLED displays which really grabs the attention for the best viewing experience. Also comes with its Apple A12 Bionic chip and 4GB of RAM. Apple has an improved battery life over the iPhone X but still not good enough as you will still find yourself looking to charge your phone midway through the day. The XS and XS have a good camera which makes images clearer and detailed giving amazing shots.
Google Pixel 3 XL
The latest Pixel lineup from google. This phone boasts the best camera in any smartphone in the market. It comes with a big screen, decent battery and plenty of power in its compact shape. Has an amazing screen with QHD resolution but the notch adaptation of it is horrible. Also is paced with Snapdragon 845processor and 4GB of RAM and 64/128Gb of storage. The battery of this phone is good lasting a single day with full charge. The camera is the best in the market producing amazing results.